Since 2011, Brilliant Chemistry has delivered effective development solutions. Whether you're looking for custom software development, a new mobile app, or a functional web app, Brilliant Chemistry can help. We've worked with large groups like Purell, Fiat, and the State of Michigan Lottery and plenty of small businesses and startups as well. Our team is thrilled to announce we've received our first review on Clutch, a leading B2B ratings and reviews company.
Located in Washington D.C., Clutch uses verified client interviews to rank and evaluate companies. Their team has a unique database that helps service providers connect with prospective buyers. We are also proud to feature on The Manifest, a B2B research hub and company analysis resource that increases business visibility. We're proud to hold a perfect 5.0/5.0 rating thus far and put our name on the map as one of the top service providers in Michigan.
In our first project featured on Clutch, we provided web development and strategy for a nationwide anti-bullying nonprofit. We were commended for our support and web design skills. The effective communication and project management style showed that we truly care about our clients.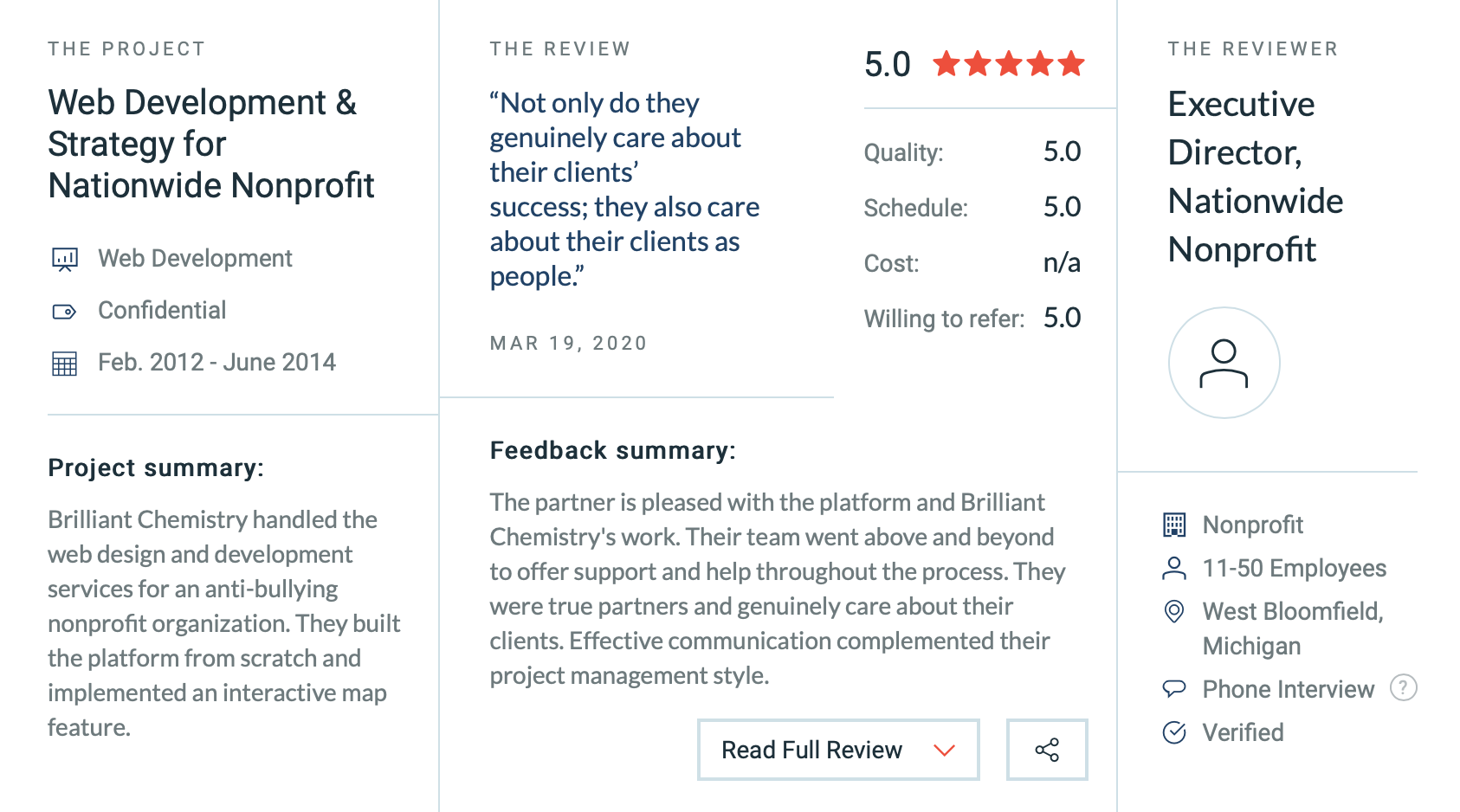 "Their work was well received by our internal team. Brilliant Chemistry was incredible. They offered a ton of support, suggestions, and help. As a new organization, they went above and beyond for us. I can't say enough positive things about them. In fact, I don't believe there are words to fully describe how much they did for us. Mike, in particular, was incredibly supportive and helpful at every turn." — Executive Director, Nationwide Nonprofit
Our team is thankful for this great feedback. We strive to stay at the top of our field as worldwide tech spending continues to play a huge role in the economy. Since we've worked with companies across the United States, we're happy that our profile is being raised on Clutch and The Manifest!
If you are looking to start a project with us, feel free to drop us a line. We'd be happy to get started on transforming your business.